NOAA predicts a near-normal 2023 Atlantic hurricane season A summary infographic showing hurricane season probability and numbers of named storms predicted from NOAA's 2023 Atlantic Hurricane Season Outlook.  (Image credit: NOAA). Read more here.
Local and Statewide Alerts
City of Tampa Hurricane Re-Entry Program
The City of Tampa Hurricane Re-Entry Program is for residents and businesses in the areas most likely to be evacuated during a hurricane event (within Zip Code areas: 33602, 33605, 33606, 33609, 33611, 33616, 33619, 33629, and MacDill Air Force Base 33621 shown on the map). It is designed to make it easier for residents and business representatives to re-enter the area after evacuation orders have been lifted – and to prevent gawkers and potential criminals from entering the area. | Click here for more information.
Evacuation Zones vs. Flood Zones
Though they are often mistaken for each other, Flood Zones and Evacuation Zones are two very different things that measure very different conditions. So what's the difference? And when do you use them?

Evacuation Zones: These are the areas that officials may order evacuated during a hurricane. These zones are mapped by the National Hurricane Center and indicate areas that will be affected by storm surge - storm-driven waves that can inundate a community, and threaten lives. Zones in Hillsborough County are identified from A - E, and there are parts of the county that are not in an evacuation zone. | Find Evacuation Information.

Flood Zones: These federally identified zones indicate a property's risk for flooding at any time of the year, including as a result of heavy or steady rain. This zone has nothing to do with hurricanes or other emergencies, and everything to do with your property insurance and building requirements. Nationally, these zones are classified as Zones A (Special Flood Hazard Area), B, C, D, V and X. Every property is in a flood zone. | Find My Flood Zone.
Emergency Contact Information via City of Tampa
Electric Power Outage or Safety Concern (TECO 24 hrs):
Toll-free 1-877-588-1010 or view the TECO Outage Map
Emergency Street Flooding/Repairs: 813-274-3101
Tree Hotline/Emergency:
Illegal Tree Removal (24 hours): 813-258-8733
Fallen Tree on city streets/sidewalks (business hours 8:00 AM to 5:00 PM): 813-274-5744
Fallen Tree on city streets/sidewalks (after hours 5:00 PM to Midnight): 813-931-2168
Fallen Tree on city streets/sidewalks (after hours Midnight to 8:000 AM): 813-274-3101
Wastewater Emergency Repair / Sewer Backup : 813-247-3451
Water Department Emergency Services (24 hours) : 813-274-7400
State of Florida Price Gouging: 866-966-7226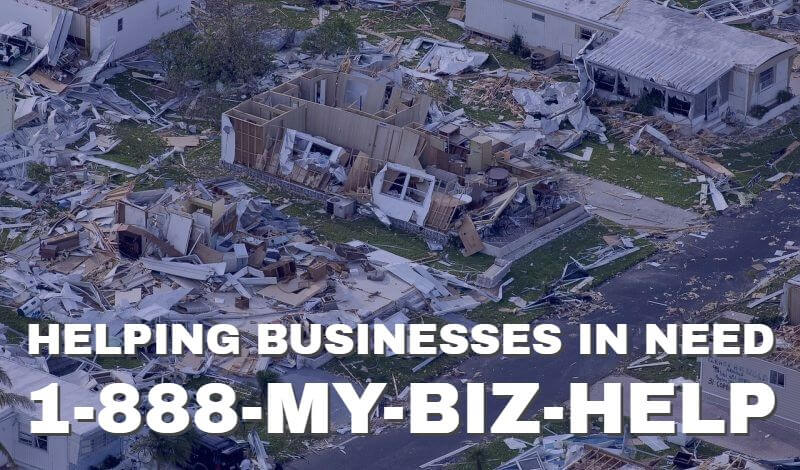 The Disaster Help Desk Is Here for You
The Disaster Help Desk provides one-on-one expert assistance to small business owners before, during, and after a disaster strikes. From preparing for hurricane and wildfire season to unexpected floods or power outages, our team is here to answer any questions you might have, including topics such as:
Readiness for minor and major disasters, ranging from fires and floods to massive natural disasters.
Relief information for those immediate days and months after a disaster strikes your business, including federal resources.
Long-term recovery advice and connections to others who can help you create a path to re-opening and staying open after a disaster.
By dialing 888-MY-BIZ-HELP or contacting us here, you'll be connected to experts who will assist your business in any disaster stage.
The Disaster Help Desk team has advised thousands of small businesses nationwide since 2007. Companies and communities that have faced massive disasters have relied on the Disaster Help Desk to help them chart a course to survival.
The Disaster Help Desk also assists with small, isolated disasters, such as power outages and facility fires.
Florida Department of Economic Opportunity (DEO)
DEO has activated the private sector hotline at 850-815-4925 from 8:00 a.m. to 6:00 p.m., Eastern Time. Inquiries may also be emailed to ESF18@em.myflorida.com.
DEO is working with its private-sector partners to provide updates on FloridaDisaster.biz related to supply chain concerns, inventory storages of emergency supplies, and general concerns and priorities of the business community.
DEO is updating www.FloridaDisaster.biz with real-time information for business owners to prepare their businesses, families, and employees for Hurricane Ian.
Florida Department of Business and Professional Regulation (DBPR)
DBPR has published an emergency page at http://myfloridalicense.com/emergency for the current status of DBPR office locations, executive orders, board meeting updates, and other resources related to Hurricane Ian.
Hurricane Preparedness Tips from the US Small Business Association
We encourage businesses to visit our website for preparedness resources, including a disaster preparedness plan guide, preparedness plan template, and emergency procedures template. For additional preparedness tips and resources, please visit www.FloridaSBDC.org.
Business Preparedness Resources from FloridaDisater.biz
Florida's Virtual Business Emergency Operations Center Flyer: The purpose of ESF 18 is to share information and coordinate emergency management activities with a diverse array of stakeholders.
Private Sector Emergency Response Information: Information on re-entry into disaster areas, waivers and ESF 18 contact information.
Steps to Prepare Your Business: Taking the steps to build a business continuity plan, as well as encouraging your employees to create a family emergency plan, can reduce the financial and physical impact on your business. It is important to consider how a disaster could affect your employees, customers, and workplace.
Florida SBDC Network: The Florida Small Business Development Center (SBDC) Network provides tools, training and resources to help small businesses grow and succeed including disaster preparedness, response and recovery. The Florida SBDC Network has more than 40 offices from Pensacola to Key West to serve the needs of Florida's business community.
U.S. Chamber of Commerce Resilience in a Box: Developed in partnership with The UPS Foundation, Resilience in a Box is based on best practices and designed to educate newcomers on business resilience.  These resources will guide companies toward addressing preparedness issues while building in flexibility to handle potential business interruptions.
Open for Business-EZ Toolkit: The Open for Business-EZ toolkit helps small businesses take important steps they need to keep functioning in the event of a major disaster or even a small disruption. The goal is to continue to perform the most critical operations, which will help reduce short- and long-term losses to your bottom line.
FEMA Ready Business: The Federal Emergency Management Agency (FEMA) created the Ready Business website to assist businesses in dealing with a variety of hazards: natural hazards like floods, hurricanes, tornadoes, and earthquakes; health hazards such as widespread and serious illnesses like the flu; human-caused hazards including accidents and acts of violence; and technology-related hazards like power outages and equipment failure.  The Ready Business program helps business leaders make a preparedness plan to get ready for these hazards.
FEMA National Risk Index Map: The FEMA National Risk Index is a dataset and online tool to help illustrate the U.S communities most at risk for natural hazards. The Index leverages available source data for 18 natural hazards, social vulnerability, and community resilience to develop a baseline relative risk measurement for each U.S county and Census tract.
SBA Emergency Preparedness: The U.S. Small Business Administration (SBA) offers an emergency preparedness website with tools to assess your business for risk, create a business continuity plan, and learn about the low-interest disaster recovery loans offered by the SBA.
Tampa Bay Business Continuity Planning: The Tampa Bay Regional Planning Council offers a free presentation that examines the economic impact of a disaster on small businesses and discusses useful practices that organizations can implement to help prepare for a disaster event. An overview of business continuity planning and steps to recovery are also explored.